The IpConfig/Allow registry key can be powerful to help secure your JNIOR. It can successfully thwart unauthorized access and prevent DOS attacks.
The danger comes in when the registry key is mis-configured. It can be a typo or not fully configured, something simple, but when this happens it can prevent legitimate attempts to access the unit.
If this happens a USB-to-Serial cable is needed to access the unit via the RS-232 port. Make sure to use the correct serial settings of 115200, 8 data bits, 1 stop bit and no parity. Once connected you can issue the reg command.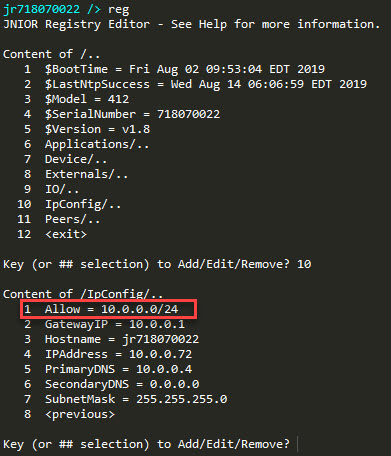 Above you can see that the IpConfig/Allow key is set for 10.0.0.0/24. This states that the first 24 bits of the address must match for a network connection to be accepted. If, for some reason, this was mistyped then legitimate connections would not be allowed. This would basically render the network port useless. The user might not have noticed what the error was.
Using the Serial to USB cable is the only way to access the unit. The key can then either be fixed or removed to regain access over the network.