Tasker is an add-on application. This means that Tasker is not loaded on the JNIOR before we ship it. This may change in the future.
To load Tasker you will need to get the JNIOR Support Tool and the Tasker update project.
Once you have installed the JNIOR Support Tool, open it and go to the Update tab. Here we will open the Tasker update project that was downloaded. Do not unzip the update project file. You should see the following…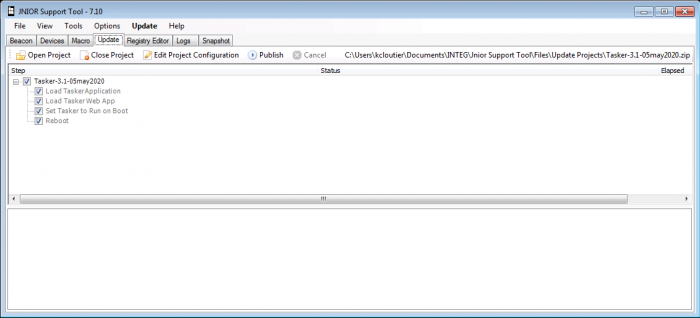 Click Publish and select the JNIOR or JNIORs that you wish the load the Tasker Application on to. The Update project will run until all of the selected JNIORs have been updated.
Once complete, you can go to the Tasker Web Application in your browser. Simply go to http://JNIOR_IP_ADDRESS/tasker.